My Bible reading plan had me in Acts 13 the other day (I'm following Carson's slight variation of the M'Cheyne plan). Verse 2 reads, "While they were worshiping the Lord and fasting, the Holy Spirit said, 'Set apart for me Barnabas and Saul for the work to which I have called them.'" Curious about the nature of the Spirit's speaking, I wanted to explore the other passages where the Holy Spirit communicates something. It would have been difficult to get a complete list of relevant passages were it not for Logos's OpenText syntax database.
Here's the search I constructed: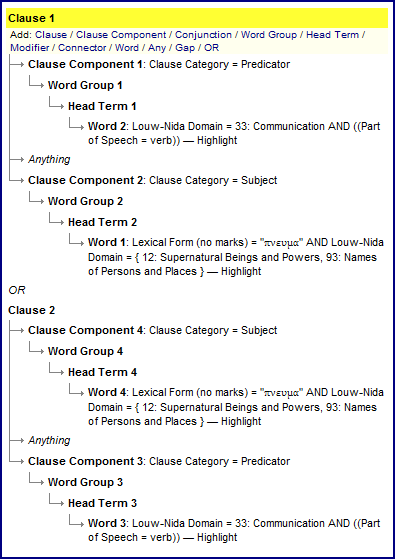 This search yielded 29 hits and supplied me with some good data for analyzing the question I had about the nature of the Spirit's communication—particularly in Acts.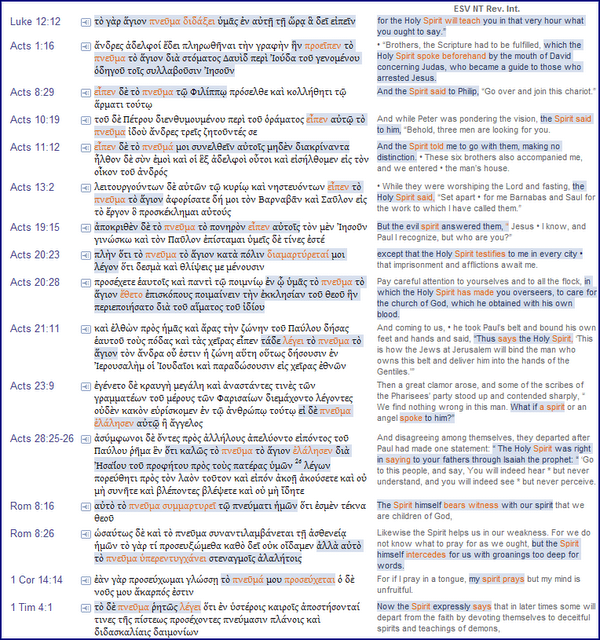 It looks like the best two options are (1) that the Spirit spoke in an audible voice (as in Acts 8:29; 10:19; 11:12) or (2) that He spoke through a prophet (Acts 1:16; 21:11; 28:25-26), who likely received the prophecy by means of audible revelation. In either case, the Spirit's speaking was authoritative, inspired revelation. The notion of the Spirit speaking something less than this through inward promptings finds no support in the book of Acts—at least not that I can tell.
The only potential support that I can find is Rom 8:16. But the context suggests otherwise. We are enabled to put to death the deeds of the body by the Spirit (v. 13), which is evidence that He is leading us (v. 14). We also have the longing in our hearts to cry out to God as our Father (v. 15). These are the Spirit's testimony that we are God's children.