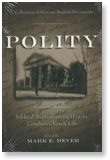 Mark Dever's Polity: Biblical Arguments on How to Conduct Church Life (also online) is available as a free download from Doxa Digital Press for the WORDSearch/Bible Explorer/Bible Navigator engine. Also newly available is the 2005 Founders Journal (4 issues), which is edited by Thomas Ascol. If you don't already have WORDSearch, Bible Explorer, or Bible Navigator, you'll need to download Bible Explorer 4 (free) in order to use these resources.
See my related post: FREE eBooks!
Update: It's no longer available, and Doxa Digital Press no longer exists.