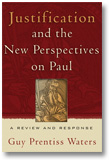 Guy Prentiss Waters. Justification and the New Perspectives on Paul: A Review and Response. P&R, 2004. 273 pp.
[rate 3]
I just recently came across Perrin's evaluation of Waters's Justification and the New Perspectives on Paul (WTSBooks).
"Whatever the merits of Justification and the New Perspectives as a primer on twentieth-century Pauline scholarship, the author has been less than successful in his interaction with the NPP. Indeed, assuming that Waters's primary goal is to construct a convincing argument against the NPP (and N. T. Wright in particular), the book must be judged to have failed at a fundamental level."1
I found his assessment to be very similar to what I wrote two years ago.
Waters's work is a helpful treatment of the issues surrounding the NPP. The value of the book is in its historical survey of Pauline scholarship leading up to the NP and in its very thorough annotated bibliography that orders its entries in chronological order, not according to when they were written but according to the time relevance of their subject matter. That by itself is worth the price of the book. Waters's writing style is very easy to follow. His points are clearly articulated by "first," "second," "third," etc., which allows the reader to follow the flow of thought with precision and ease. Waters's critique of the NP is a very small portion of the book and is unfortunately brief and shallow. As a result it seems that Waters is merely regurgitating the traditional Reformed position as assertion rather than argumentation. Where Waters does offer some argumentation, it seems to be based upon presuppositions that Waters just assumes to be true rather than arguing that they are true. Thus, all the consequent argumentation will be discounted by those who do not accept his premises (and for those who do accept them, the argumentation is probably unnecessary!). So in my view, Waters's book succeeds as a review but largely fails as a response. Certainly he makes some good points along the way. Unfortunately, though, this section of the book, while probably the most crucial in some ways, is the most disappointing.2
Has anyone else read and/or reviewed Waters's work? I'd enjoy hearing your thoughts.
See also:
Footnotes
Nicholas Perrin, "A Reformed Perspective on the New Perspective," WTJ 67:2 (Fall 2005): 381-89. ↩