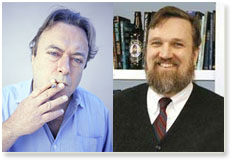 Last night I read the final installment in the six-part email debate that has been taking place over the last month on ChristianityToday.com between atheist Christopher Hitchens (website) and Christian theist Douglas Wilson (blog). I thoroughly enjoyed it and heartily recommend it. Wilson is a cogent thinker, effective debater, and engaging writer, and he did a phenomenal job of presuppositionally obliterating the notion of philosophically consistent atheistic morality.
If I ever teach apologetics, I'll probably make this debate required reading. Though they are difficult to compare because one was written and the other spoken, I'd put this debate up there close to the Bahnsen-Stein debate.
To get a sampling of Wilson's argumentation, see these two posts:
Here are the six exchanges in the debate:
I've compiled the whole debate in a document (Word | PDF). I've added some links and headings for ease of navigation (you'll want to display the document map [Word] or bookmarks [PDF]), and I've also enabled markup in the PDF file in case you want to highlight while you read (Adobe Reader 8 required). Enjoy!
You may also be interested in Douglas Wilson's new book, Letter from a Christian Citizen, which is a response to atheist Sam Harris's book Letter to a Christian Nation.