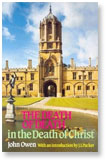 I recently stumbled across a brief defense of limited atonement written by Greg Bahnsen (Wikipedia | Theopedia) in 1972 (at the age of 23 or 24). His fervency reminded me of Owen's in Death of Death in the Death of Christ (WTSBooks) and Packer's in his introductory essay in the same (which is also the eighth chapter in his A Quest for Godliness: The Puritan Vision of the Christian Life).
Here are some selections from Bahnsen's article:
A very unhealthy notion that plagues the fundamentalist church is the idea that Christ laid down his life for each and every individual; that he went to the cross to save all men without exception. Such a view is not consistent with Biblical Christianity. Sometimes a person will acknowledge the total depravity of man, unconditional election of God the Father, prevenient grace of the Spirit and yet deny the particular redemption of Christ; such a position is known as "fourpoint Calvinism" and is as inconsistent as it is unorthodox.

If it be said that before creation the Father singled out in election those whom He destined to save and that the Spirit's activity of bringing men to repentance and faith is operative (to that extent) only in the lives of God's elect and yet that Christ offered up His life for the purpose of saving every single individual, then the unity of the Trinity has been forsaken. For in such a case Christ clearly sets out to accomplish what God the Father and Spirit do not intend to do; Christ here would be out of harmony with the will and purpose of the other two persons of the Trinity. Hence anyone who expounds "four-point Calvinism" has inadvertently destroyed the doctrine of the Trinity (by dissolving its unity) and is logically committed to a polytheistic position.

. . .

Particular redemption is the only triune, monotheistic, substitutionary, personal, effectual, and biblical (hence, orthodox) doctrine of Christ's atonement; all else (including fundamentalism's redemption for every individual) are doctrines pleasing to men but unsatisfactory in their Theology, anthropology, and soteriology. Sola Scriptura!
Read the whole article.
Now, I agree with the view that Christ died particularly and singularly (as concerns His manward aim) to save His people from their sins. Yet I'm not comfortable going so far as to call the opposing view(s) unorthodox, antitrinitarian, and polytheistic! Perhaps his later expressions were not so audacious. Does anyone know if he wrote on the subject later in life? I'd be curious to find out if he toned it down at all.