I recently enjoyed reflecting on this encouraging hymn text with solid theology penned by Augustus Toplady (ERF | ODCC):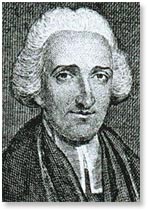 From whence this fear and unbelief?
Hath not the Father put to grief
His spotless Son for me?
And will the righteous Judge of men
Condemn me for that debt of sin
Which, Lord, was charged on thee?
Complete atonement thou hast made,
And to the utmost farthing paid
Whate'er thy people owed;
How then can wrath on me take place
If sheltered in thy righteousness,
And sprinkled with thy blood?
If thou hast my discharge procured,
And freely in my room endured
The whole of wrath divine,
Payment God cannot twice demand—
First at my bleeding Surety's hand,
And then again at mine.
Turn then, my soul, unto thy rest!
The merits of thy great High Priest
Have bought thy liberty;
Trust in his efficacious blood,
Nor fear thy banishment from God,a
Since Jesus died for thee.
Amen!
This is quoted in J. I. Packer, "The Doctrine of Justification in Development and Decline Among the Puritans," in A Quest for Godliness: The Puritan Vision of the Christian Life (Wheaton: Crossway, 1994), 156n15 and comes from Diary and Selection of Hymns of Augustus Toplady (Gospel Standard Baptist Trust: Harpenden, 1969), 193. It is also hymn 370 with the title "From Whence This Fear and Unbelief?" in Hymns of Grace and Glory (BJUP | MCBC) (edited by Joan J. Pinkston and Sharalynn E. Hicks), appearing with only one minor modification: instead of "utmost farthing paid" it reads "utmost Thou hast paid."
Packer comments that this text
mirrors most strikingly in devotional response the particularistic efficacy, i.e., the genuinely substitutionary character of Christ's atoning death. This hymn, as Toplady wrote it (verbal smoothings in modern printings sometimes smudge the theology), brilliantly focuses the Reformed recognition of what Jesus and the apostolic writers meant by saying that the death at Calvary was 'for' people (Greek, huper and anti).
Does anyone know if this hymn is available in audio anywhere?
Update: I contacted Bob Kauflin, the Director of Worship Development for Sovereign Grace Ministries, and asked him if he knew of any CD containing this text put to music. He said that he didn't and wasn't aware of this text. I also asked him if he would consider writing a new tune for it and including in a future Sovereign Grace CD, and he said that he would. He will probably adjust the lyrics a bit as well so they are more understandable to a modern-day audience. This is exciting news. Keep an eye out for this song in a future Sovereign Grace recording.