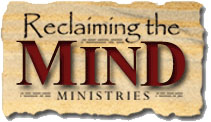 Reclaiming the Mind Ministries has just announced the launching of their online Theological Library, which contains hundreds of ETS papers from the last five years. The papers are (1) free, (2) fully searchable with selectable text for copying and pasting (most of them),1 and (3) available for viewing online2 or downloading and viewing as PDFs. There's a wealth of helpful material there that I'm sure you'll want to take advantage of!
Here's the full announcement from Pen and Parchment, the blog of RMM:
Hundreds of theological papers online and available for search and download. These are papers from the past 5 years of the Evangelical Theological Society (ETS) annual meeting. Although RMM does not endorse the contents of all these papers, they are great for study, research, digging deeper, broadening your perspectives, and getting up to speed on current issues in theology.

The goal of Reclaiming the Mind Ministries is to make theology accessible. I hope these papers will go a long way in doing so.

Thanks to Zondervan and the Evangelical Theological Society as we have worked together to get this project up-to-date. Special thanks to Mark Warnick who worked out the deal, Richard Sugg who created the database, and Carrie Hunter who helped me categorize these papers.
TREN also has ETS papers, but charges $.10 per page (with a cap of $3.00).
Footnotes
I stumbled across one out of a couple dozen that didn't have selectable text. It appears that the vast majority do. ↩
They currently have a problem displaying superscripted text; an inch of blank space appears before every footnote. ↩