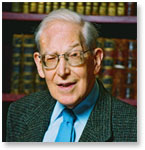 The Wikipedia entry for J. I. Packer says that "he is now at work on his magnum opus, a systematic theology." This was the first I'd heard about this. I'd love to find out more. Can anyone verify that this is true and perhaps share some additional information like (1) the expected length, (2) how far along he is, (3) the expected publication date, and (4) the publisher?
A Google search didn't yield anything concrete. The best information I found was from a couple of comments on Mark Dever's blog post "Where'd All These Calvinists Come From? Part 7 of 10" (J. I. Packer):
Shannon Lewis | Aug 1, 2007 8:28:18 AM
Praise the Lord for Packer. Not only has his writing influenced me profoundly, but his life, through a few mutual friends, and Alister McGrath's incredible biography, has been an inspiration to me as well. I hear he's working on a Systematic Theology—THAT is one I can't wait to get a hold of!
Al Hsu | Aug 8, 2007 9:57:01 AM
A comment above alludes to Packer's systematic theology—alas, this long-awaited book may never develop. Publishers have been hoping for a systematic theology from Packer for decades, but for various reasons, it's not likely ever to materialize. Knowing God may be the closest we ever get, though The J. I. Packer Collection (edited by Alister McGrath) brings together key Packer essays from over the years that provides a mini-systematic sampling of his thought. Out of print now, but available used online.
Update: In some personal correspondence with Justin Taylor, he shared with me the following:
I saw your post on the Packer ST. It's pitched, he told me, at about the same level as Lloyd-Jones' volumes on doctrine (Great Doctrines of the Bible). In other words, it won't be textbook style.

As Al Hsu intimated, it's been in the works for decades. My best guess is that it will only be published after he dies. He simply doesn't say "no" to enough present-day projects for it to see the light of day while he's alive. (Though I'll be happy to be proved wrong on that!) His daughter was a theology student, and I think she'll be the one to pull together his unpublished materials.

You can order his ST lectures here: http://www.jipackeronline.com/audio.php.
See also my previous three posts relating to Packer: