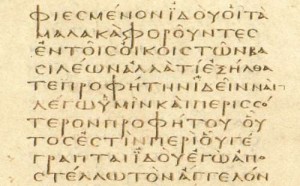 Rod Decker, Professor of Greek and New Testament at Baptist Bible Seminary, Clarks Summit, Pennsylvania, recently blogged about how new Vista fonts Cambria, Calibri, Candara, Consolas, Constantia, and Corbel unfortunately do not support polytonic Unicode Greek. Be sure to check out the PDF where he evaluates them.
In a comment, I noted that another new Vista font, Segoe UI, does support polytonic Unicode Greek. I also mentioned some nice polytonic Unicode Greek fonts that come with Adobe's Creative Suite: "Arno Pro (serif), Garamond Premr Pro (serif), and Hypatia Sans Pro (sans serif)—a free gift downloadable after registering the product." Decker responded and asked if I would post a PDF with samples, so that's what I'm doing.
Here is a PDF with every polytonic Unicode Greek font that I've been able to get my hands on. Some of them are ugly; some are nice. Most of them are free. The ones that aren't free have come with products I own.
Gentium has been my font of choice for most circumstances. Minion is also quite nice and would perhaps be my top choice were it not for the spacing problem it has with capital letters bearing diacriticals. (See my comment to Decker for more on this.)
What is your favorite polytonic Unicode Greek font? Did I miss any important ones?