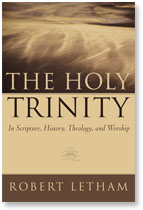 I've been reading Robert Letham's excellent book The Holy Trinity: In Scripture, History, Theology, and Worship. It's a must for any serious study of Trinitarianism. In many ways Letham represents a mediating position when it comes to the debates regarding subordination in the Trinity. He differs from someone like Wayne Grudem and maintains that talk of subordination and hierarchy in the ontological Trinity is inappropriate—even functional.1 However, he also differs from someone like Kevin Giles (cf. this post) who flattens out all the distinctions among Father, Son, and Spirit. Letham rightly sees τάξις (in the sense of order, not rank) in the Trinity. The various functions and roles of Father, Son, and Spirit are not arbitrary or reversible. The Father's acting through the Son by the Spirit expresses ontological reality; the economic Trinity reveals the immanent Trinity.
While most of what I have to say about Letham's book is positive, I have had a few minor issues here and there. For example, Letham maintains that most Western Christians are practical modalists. I'm not strongly opposed to Letham's assertion, but he does a very poor job of establishing its veracity. Here's what he says:
Today most Western Christians are practical modalists. The usual way of referring to God is "God" or, particularly at the popular level, "the Lord." It is worth contrasting this with Gregory Nazianzen, the great Cappadocian of the fourth century, who spoke of "my Trinity," saying "When I say 'God,' I mean Father, Son, and Holy Spirit." This practical modalism goes in tandem with a general lack of understanding of the historic doctrine of the Trinity.
I had a hard time following Letham on this one. A few comments:
How does referring to God as God or the Lord constitute practical modalism? I need some dots connected for me on this one.
God and Lord are both biblical terms for God. Using them is clearly not inappropriate or unorthodox, nor does it constitute any kind of practical modalism.
Gregory Nazianzen also used the term God to refer to God. Now, he defined what he meant by it, but does Letham assume to know what "most Western Christians" mean by it without their having had a chance to provide explication? Furthermore, does Scripture itself always—or even usually—mean Trinity when it uses God?
I have no doubt that many tend toward modalism, but with William Hordern2 I'm more inclined—based on my limited exposure to conservative evangelical Christianity—to think that the bigger problem is practical tritheism. We tend to emphasize the threeness of God and the fact that all three persons are God. We even speak in terms that sound tritheistic when we refer to God the Father, God the Son, and God the Holy Spirit, rather than "God the Father, Son, and Spirit."3 The oneness of God is usually thought of in terms of all three persons' sharing the same nature or set of divine attributes. But that kind of explanation yields something that differs little (if at all) from tritheism.
Avoiding modalism and tritheism is as challenging as steering clear of legalism and antinomianism. Errors in formulating a biblical doctrine of the Trinity stem from the desire to say too much. Perhaps Van Til's approach is best. He leaves the tension unresolved and maintains the full mystery of the Trinity by arguing that God is both one person and three persons, though in different senses. Van Til is combating the notion that "God" is some kind of attribute that the three persons of the Trinity share in common. Frame's defense of Van Til on this point is quite insightful.4 Van Til's formulation helpfully preserves us from the tendency toward either modalism or tritheism. God is one and God is three, but in different senses (and thus not contradictorily). In precisely what ways He is one and three, we cannot and should not say.
Footnotes