In my Bible reading a couple of days ago, I was struck by Paul's use of Savior (σωτήρ) in Titus. Several things stood out to me. First, it occurs 6 times in the small letter of only 46 verses—twice per chapter. It occurs only 24 times in the whole NT. So it's significant that 25% of the NT occurrences are in Titus.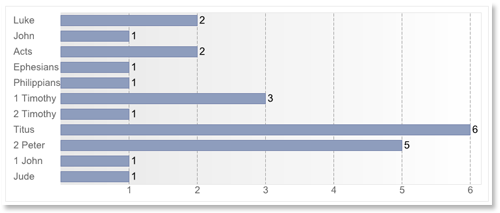 Second, it occurs three times with reference to the Father and three times with reference to the Son. Paul alternates consistently between calling the Father then the Son our Savior. The occurrences in chapters 1 and 3 even occupy the same main thought.
Titus 1:1–4
1 Paul, a servant of God and an apostle of Jesus Christ, for the sake of the faith of God's elect and their knowledge of the truth, which accords with godliness, 2 in hope of eternal life, which God, who never lies, promised before the ages began 3 and at the proper time manifested in his word through the preaching with which I have been entrusted by the command of God our Savior; 4 To Titus, my true child in a common faith: Grace and peace from God the Father and Christ Jesus our Savior.
Titus 2:9–14
9 Slaves are to be submissive to their own masters in everything; they are to be well-pleasing, not argumentative, 10 not pilfering, but showing all good faith, so that in everything they may adorn the doctrine of God our Savior. 11 For the grace of God has appeared, bringing salvation for all people, 12 training us to renounce ungodliness and worldly passions, and to live self-controlled, upright, and godly lives in the present age, 13 waiting for our blessed hope, the appearing of the glory of our great God and Savior Jesus Christ, 14 who gave himself for us to redeem us from all lawlessness and to purify for himself a people for his own possession who are zealous for good works.
Titus 3:4–7
4 But when the goodness and loving kindness of God our Savior appeared, 5 he saved us, not because of works done by us in righteousness, but according to his own mercy, by the washing of regeneration and renewal of the Holy Spirit, 6 whom he poured out on us richly through Jesus Christ our Savior, 7 so that being justified by his grace we might become heirs according to the hope of eternal life.
I'm sure I'm not the first to take note of this, but it is always exciting to spot little things like this for the first time.
What are the implications of this? Two come to mind.
It highlights the equality and oneness of the Father and Son. They are not two separate Saviors. Paul doesn't refer to God, one of our Saviors, and Jesus, our other Savior. The singular expression, our Savior, applies equality to both, yet does not result in more than one Savior.
It underscores the unity of the Father and Son in the work of redemption. Jesus didn't undertake the work of redemption against the will of the Father, who wanted nothing more than to pour out His wrath on us. The Father and the Son acted in a shared love to bring about our salvation.
Out of curiosity, I looked up the other occurrences of σωτήρ in the NT. Here are the data:
References to the Father (8x)

Lk 1:47; 1 Tim 1:1; 2:3; 4:10; Tit 1:3; 2:10; 3:4; Jude 25
References to the Son (16x)
Lk 2:11; Jn 4:42; Acts 5:31; 13:23; Eph 5:23; Phil 3:20; 2 Tim 1:10; Tit 1:4; 2:13; 3:6; 2 Pet 1:1; 2:20; 3:2, 18; 1 Jn 4:141
I am in the habit of using Savior exclusively of the Son. I am going to make a concerted effort to refer to both the Father and the Son as our Savior.
Footnotes
Tit 2:13 and 2 Pet 1:1 are examples of the Granville Sharp rule. Cf. Daniel Wallace's excellent discussion. ↩