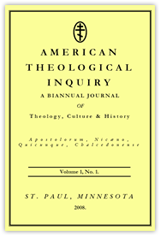 A friend pointed me to a new journal: American Theological Inquiry, which is a biannual journal of theology, culture, and history. The first issue was released on January 15, and the next issue is due on July 15. ATI is available as a free PDF via email or from their website, http://www.atijournal.org/. You can subscribe to the list by sending an email to [email protected]. ATI currently has more than 4200 subscribers. The journal can also be obtained in print through Wipf & Stock.
The general and associate editors are Gannon Murphy and Stephen Patrick, both of whom reside in St. Paul, MN.
The stated purpose of ATI is "to provide an inter-tradition forum for scholars who affirm the historic Ecumenical Creeds of Christendom (Apostles', Athanasian, Nicæno-Constantinopolitan, and Chalcedonian) to constructively communicate contemporary theologies, developments, ideas, commentaries, insights, and affirmations pertaining to theology, culture, and history, toward reforming and elevating American Christianity."
The first issue has contributions from—among others—Samuel Lamerson ("The Openness of God and the Historical Jesus"), D. G. Hart ("Same As It Ever Was: The Future of Protestantism in Global North"), and Sam Storms, who reviewed Mark Roberts's Can We Trust the Gospels?
The PDF format makes its usability limited. You cannot link to the various articles since it is just a single PDF file. It's likely not to get many hits from Google searches either since Google ranks HTML pages much higher than PDF files. Some negatives could be overcome, like the lack of bookmarks, which means you cannot easily navigate to the various articles and reviews, and the omission of both internal and external hyperlinks. Perhaps most frustrating is that they have disabled copying and pasting—a very poor decision for any free online journal!
While the content looks solid for the most part, the editors were perhaps short on time (or perhaps don't know Greek). Much of the Greek text is a complete mess (e.g., 30–31)—no doubt the result of not using Unicode. The Hebrew font size is disproportionately small compared to the English. There's also a bothersome mix of straight and smart quotes, and a few other formatting inconsistencies.
All in all, it looks like a journal worth subscribing to. Check it out.