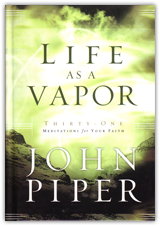 John Piper is one of my favorite living theologians. His writings and preaching have had a profound impact on my thinking, and he is regularly a means of great encouragement and motivation. I rarely find myself disagreeing with him.
I recently picked up the 24-volume John Piper Collection from Logos and have been enjoying working through Life As a Vapor. It's composed of 31 chapters making it an ideal book to read for a month's worth of devotional reading.
The second chapter is entitled "Suffering, Mercy, and Heavenly Regret," in which Piper poses the question, "Is there regret in heaven?" He continues, "Can regret be part of the ever-increasing, unspeakable joy of the age to come, purchased by Jesus Christ (Romans 8:32)? My answer is yes" (19).
Piper reasons that since we will spend eternity praising Christ for ransoming us (e.g., Rev 5:9), we'll certainly remember our sinful condition from which we've been ransomed. And those memories will yield feelings of regret.
It is inconceivable to me that we will remember our sin for what it really was, and the suffering of Christ for what it really was, and not feel regretful joy. . . . It does mean that regret will not ruin heaven. There will be kinds of joys, and complexities of happiness, and combinations of emotions in heaven of which we have never dreamed. (20)
Piper feels some tension leading him to speak in terms of "regretful joy." He addresses Revelation 21:4, but concludes that he doesn't think that it "rules out tears of joy" or "regretful joy."
I'm having trouble being convinced. Regret is defined as "a feeling of sorrow, repentance, or disappointment" (Concise OED), "a sense of repentance, guilt, or sorrow, as over some wrong done or an unfulfilled ambition" or "a sense of loss or grief" (Collins English Dictionary), and "sorrow aroused by circumstances beyond one's control or power to repair" or "an expression of distressing emotion (as sorrow or disappointment)" (Merriam-Webster's).
Revelation 21:4 speaks of the permanent removal of mourning (πένθος), crying (κραυγὴ), and pain (πόνος). BDAG defines πένθος as "sorrow as experience or expression, grief, sadness, mourning" (795), κραυγὴ as "outcry in grief or anxiety, wailing, crying" (565), and πόνος as "experience of great trouble, pain, distress, affliction" (852). It's clear from a passage like Isaiah 65:14 that πόνος can refer to emotional pain (πόνον τῆς καρδίας) as well.
I struggle to see how the elimination of these leaves room for genuine regret (i.e., sorrow, disappointment, grief, guilt, distress). But since Piper never defines regret or "joyful regret," it's hard for me to know exactly what he has in mind. I'm really having a difficult time getting my mind around the concept of "joyful regret." And if our praise of Christ for His work of ransoming us will be unceasing, and that praise requires that we remember our sin, then it would seem that our regret would be as constant as our praise.
Is it even right for believers to feel regret when recalling past sin? If it is right, should we do it intentionally? In other words, should we try to conjure up feelings of regret? Should we do so frequently? Or does genuine confession and faith in the work of Christ—and confidence in the sovereignty of God—put regret away permanently and give place to unceasing joy so that whenever our minds recall past sin we turn immediately to the cross? Is regret something to strive for or against? Or is it more like a necessary evil of sorts?
What are your thoughts? Will regret be part of the ongoing experience of the redeemed when God makes all things new?
See also "More Thoughts on Regret."