I just installed the new Moulton-Howard-Turner Greek Grammar Collection from Logos.
It comes with the four volumes of A Grammar of New Testament Greek:
Vol. 1: Prolegomena by James H. Moulton
Vol. 2: Accidence and Word-Formation by James H. Moulton and Wilbert F. Howard
Vol. 3: Syntax by Nigel Turner
Vol. 4: Style by Nigel Turner
It also includes Turner's volume Grammatical Insights into the New Testament.
I've been looking forward to this collection since it was first put on Pre-Pub in June of 2006. We used Turner's volume on syntax in an advanced Greek grammar course in seminary, and I found his meticulous analysis to be incredibly helpful. I'm eager to dig into the other volumes as well.
The first thing I did after installing this collection was to run a search in the Reference Browser for 1 Cor 15:28.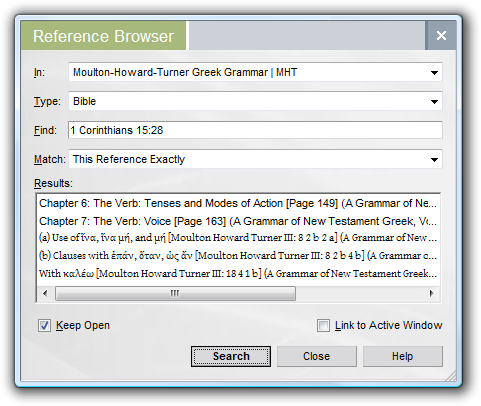 The first hit was this relevant quote from Moulton:
An ingressive future may probably be seen in ὑποταγήσεται, 1 Co 15:28: the τότε seems to show that the Parousia is thought of as initiating a new kind of subordination of the Son to the Father, and not the perpetuation of that which had been conspicuous in the whole of the mediatorial æon. The exposition of this mystery must be taken up by the theologians.1
None of us is able to interpret the Scripture with sheer objectivity, but Moulton's best attempt at reading this text grammatically rather than theological leads him to see an ingressive future, which denotes a subordination of the Son to the Father that differs from the Son's present subordination to the Father (i.e., during the mediatorial age—from the incarnation until "God has put all things in subjection under His feet").
See my previous post: John Frame on 1 Corinthians 15:28 and Eternal Subordination.
Footnotes