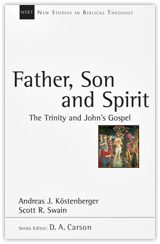 There's a new book on the Trinity that I'm looking forward to picking up in a couple of months. Andres J. Köstenberger and Scott R. Swain have coauthored Father, Son and Spirit: The Trinity and John's Gospel, volume 24 in the New Studies in Biblical Theology (NSBT) series, edited by D. A. Carson. It's 224 pages and due to be released sometime in July.
Here's how Köstenberger summarizes the book:
Part One situates John's trinitarian teaching within the context of Second Temple Jewish monotheism. Part Two examines the Gospel narrative in order to trace the characterization of God as Father, Son and Spirit, followed by a brief synthesis. Part Three deals more fully with major trinitarian themes in the Fourth Gospel, including its account of Jesus Christ, the Holy Spirit, and mission. A final chapter discusses the significance of John's Gospel for the church's doctrine of the Trinity, and a brief conclusion summarizes some practical implications.
Carson has this to say about it:
This present volume is the joint product of a Neutestamentler and a systematic theologian. In their collaboration they have simultaneously attempted a detailed exegetical and theological understanding of what the Fourth Gospel says about God, using the categories of that Gospel itself, and mature understanding of the links between that text and the systematic formulations of what came to be called the doctrine of the Trinity. In what sense is it proper to think of the doctrine of God in John's Gospel as trinitarian? Some are so suspicious of links between biblical exegesis and systematic theology that they will deplore any ostensible connections between the two, afraid that the latter will domesticate the former and stain it with anachronism, or that the former will dilute the latter and render it insipid. Drs Köstenberger and Swain, thankfully, are not numbered among them.
Perhaps I'll share some thoughts on it later.