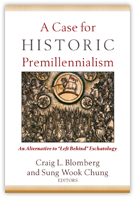 Chad Knudson pointed out a new book from Baker Academic, A Case for Historic Premillennialism: An Alternative to "Left Behind" Eschatology. It's edited by Craig Blomberg and Sung Wook Chung.1
Here's the first paragraph of the book description:
Twentieth- and twenty-first-century American evangelicalism, particularly at the popular level, has been virtually saturated with the eschatology of dispensational premillennialism. The distinctive teachings of that system, in particular its affirmation of the pretribulation rapture of the church, have become so pervasive that many evangelicals would be hard pressed to identify an alternative approach. Popular novels that disseminate dispensationalism to a wider readership have only furthered that trend.
This piqued my interested because Blomberg has been one of the main voices for progressive dispensationalism, and I was under the impression that most, if not all, progressives still held to a pre-trib rapture of the church. Historic premillennialists do not.
So either my assumption that progressives hold to pre-trib is incorrect, or Blomberg has apparently changed his position to align with historic premillennialists. I guess it's possible that Blomberg edited a book that defends a position he doesn't hold to, but that seems unlikely to me. [Update: Or I'm confusing Craig Blomberg with Craig Blaising. Oops!]
I did some quick digging on progressives as pre-tribulationists, and here's what I came up with (italics added):
Mike Stallard, "Progressive Dispensationalism":
Fifth, progressive dispensationalists do not consider the doctrine of the pretribulational rapture to have great significance. To borrow Saucy's expression, the timing of the rapture of the Church is not 'a determining touchstone of dispensationalism.' This does not mean that progressives have abandoned the pretribulational rapture. To this point they hold to it on exegetical grounds. However, they view the whole issue as minor in comparison to traditionalists who often consider it crucial to the outline of God's purposes.
Robert L. Thomas, "The Hermeneutics of Progressive Dispensationalism," The Master's Seminary Journal 6:1 (Spring 1995): 79–80:
Progressive Dispensationalism differs from Dispensationalism in a number of ways, one of them being in not viewing the time of the rapture to be as crucial. . . . For the most part, progressive dispensationalists believe in a rapture prior to the future seven-year tribulation, but they do so in a rather tentative fashion. Their system could dispense with this doctrine without altering their position significantly.
Ibid., 95:
The difference in hermeneutical methodology summarized above explains why PD is less clear-cut in its support of a pretribulational rapture of the church as well as of a number of other longstanding distinctives of dispensationalism.
"Progressive Dispensationalism," Wikipedia:
Progressive and traditional dispensationalists hold to many common beliefs, including a distinction between Israel and the Church, a future pre-tribulation rapture, a seven-year tribulation, and a millennial kingdom, of which the rule of Jesus Christ will be centered in Jerusalem.
(Yes, Wikipedia is last for a reason, and, no, I didn't edit the article and add this statement myself.)
Where there is agreement is that the pre-trib position is far less important to progressives. Where there's a little disagreement is whether all or only some progressives hold to a pre-trib rapture (compare Stallard's statement with Thomas's "for the most part").
Perhaps it was originally true that all progressives still held to a pre-trib rapture, but given their nonchalance toward the issue, it was only a matter of time before they started abandoning that point. Just a guess.
Can anyone point me to a self-proclaimed progressive who is also a self-proclaimed post-tribulationist?
The rapture position aside, there are still some noteworthy differences between progressive dispensationalists and historic premillennialists (particularly, (1) the relationship between Israel and the church (2) and the future of Israel as a nation) that make me wonder about Blomberg's present views.
Thoughts? Am I missing anything?
Well, I might have just found the missing clue. Here's the rest of the book description (italics added):
The contributors to this volume provide a thoughtful alternative. They present compelling arguments for historic or classic premillennialism—a position widely held throughout church history (and popularly advanced in the writings of George Eldon Ladd). An introductory chapter examines the differences within premillennial eschatology and considers reasons for the widespread popularity of dispensationalism in the twentieth century. This is followed by biblical, theological, historical, and missiological studies that reexamine classic premillennialism, particularly with regard to its understanding of the return of Christ.

The authors, all respected scholars in their fields, present arguments for a return to an eschatological theology that was widely held for many centuries. Their engaging studies should be of great interest to evangelical readers—both in the academy and in the church.
I think Blomberg wrote the introductory chapter, so perhaps he is just giving an overview of the issues and not necessarily aligning himself with the position of the book.
What's your theory? (Or where am I off?)
For a related discussion, see this four-year-old thread at the PuritanBoard: Historic premillennialism and progressive dispensationalism?
Update: A friend just pointed out where I was way off. I was confusing Craig Blomberg with Craig Blaising. Oops! I even thumbed through Bock's and Blaising's book on PD when writing this post. Ugh. Sorry for the unnecessary confusion.
Footnotes
The chapters are by Craig L. Blomberg, Oscar A. Campos, Sung Wook Chung, Helene Dallaire, Donald Fairbairn, Richard S. Hess, Don J. Payne, and Timothy P. Weber. ↩