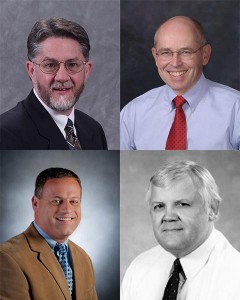 A few weeks ago, a friend informed me of this upcoming debate between Bruce Ware & Wayne Grudem and Tom McCall & Keith Yandell. It's very relevant to my dissertation topic, so I'm looking forward to hearing the results. Hopefully audio and transcripts will be made available.
I read a paper from Tom McCall several months ago on this subject and was not very satisfied with his approach. I think he oversimplifies matters and confuses categories (especially regarding the notion of essence—much like Kevin Giles does). I have had the privilege recently of interacting with Bruce Ware a little on these matters. While I don't necessarily agree with everything as he states it and am still in the process of working through some of these issues, I'm far more comfortable with Ware's approach.
Here are the details of the event from the Henry Center blog:
Ware-Grudem Vs. McCall-Yandell on the Trinity

The Carl F. H. Henry Center for Theological Understanding of Trinity Evangelical Divinity School is excited to announce that on October 9th, 2008 at 6:30pm, it will host a Trinity Debate at the TEDS Chapel featuring Drs. Bruce Ware (Southern Baptist Theological Seminary) and Wayne Grudem (Phoenix Seminary) versus Drs. Tom McCall (TEDS) and Keith Yandell (University of Wisconsin-Madison) on the question:

"Do relations of authority and submission exist eternally among the Persons of the Godhead?"

This debate follows current argumentation in the academic sphere between the two sides. Though a theological exchange between expert scholars, this event will prove beneficial for Christians of all backgrounds. The doctrine of the Trinity is at the heart of the Christian faith and takes into account questions of scriptural interpretation, theological synthesis, and philosophical reasoning. Determining the identities and roles of the persons of the Godhead is thus of great importance not only to the academician, but to the pastor, the layperson, the student and all who would seek to probe and comprehend the beautiful complexity of orthodox Christianity.

The Center anticipates that the debate will be lively, informative, charitable, enjoyable, and, we trust, helpful to a wide variety of Christians and even non-Christians who wish to better understand one of the central realities of the faith. This event is not intended to be intramural, but rather to stimulate discussion that clarifies the Word of God in the life of Christ's church. All should consider themselves invited and welcome to this free evening of debate and dialogue over theological issues that matter.
If you hear anything about audio recordings or transcripts, please let me know.
HT: Rod Decker