A blog post at the City Room Blog at NYTimes.com has received some attention this week. In "Is That an Emoticon in 1862?" the author explores whether a ;) in a transcript of a Lincoln speech is an emoticon or a typo. Some are convinced that this is the earliest example of an emoticon. Most seem to think it's simply a typo in the form of accidental transposition (e.g., see the comments here and here).
Here's an image of the text under discussion: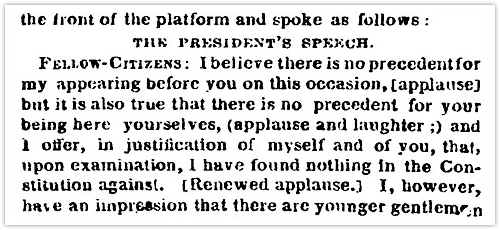 It reads,
the front of the platform and spoke as follows :

THE PRESIDENT'S SPEECH.

Fellow-Citizens : I believe there is no precedent for
my appearing before you on this occasion, [applause]
but it is also true that there is no precedent for your
being here yourselves, (applause and laughter ;) and
I offer, in justification of myself and of you, that,
upon examination, I have found nothing in the Con-
stitution against. [Renewed applause.] I, however,
have an impression that there are younger gentlemen
Looks like an emoticon, huh? ;)1
However, as anyone familiar with the King James Version (or the American Standard Version) would realize, it's actually neither an early example of an emoticon or a typo of any sort. It was perfectly suitable as little as 100 years go to include semicolons, colons, and commas at the end of parenthetical items inside the closing parenthesis.
Take this example from Ephesians 2:4–10 KJV:
4 But God, who is rich in mercy, for his great love wherewith he loved us, 5 Even when we were dead in sins, hath quickened us together with Christ, (by grace ye are saved;) 6 And hath raised us up together, and made us sit together in heavenly places in Christ Jesus: 7 That in the ages to come he might shew the exceeding riches of his grace in his kindness toward us through Christ Jesus. 8 For by grace are ye saved through faith; and that not of yourselves: it is the gift of God: 9 Not of works, lest any man should boast. 10 For we are his workmanship, created in Christ Jesus unto good works, which God hath before ordained that we should walk in them.
The editors of this edition of the KJV were not joking about salvation being by grace.
This is hardly an isolated instance. The KJV has 54 occurrences of ;)2 and 39 occurrences of :)3.
Likewise, the ASV has 18 occurrences of ;)4 and 3 occurrences of :)5.
You'll also find numerous instances of a comma before a closing parenthesis. For more examples of all three, see the Darby Bible.
So putting punctuation marks like semicolons, colons, and commas within parentheses at the end of the parenthetical text was quite common a century ago. When that fell out of practice, I'm not sure. What's clear is that it is ludicrous to consider this an emoticon or a typo.
HT: Tommy Keene
Footnotes