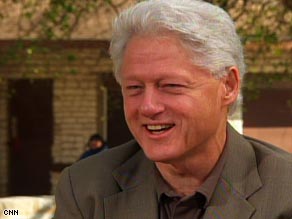 I saw this video this morning and just have to pass it along.
[Edit: The video is no longer available.]
Here's a transcript of the short exchange:
John Roberts: US News & World Report this week commissioned a poll that surveyed a bunch of women in American asking what role you should take on with your wife as Secretary of State. Thirty-seven percent, the greatest number of women, said, "House husband." We're wondering what you think about that.

Bill Clinton: I—well, you know, it's funny. I told her when she left that I—that I wish now that I was an ordinary citizen, because I wish I could go with her and be there when she comes home at night and do for her what she did for me when I was President. But it's not in the cards. I'm—we're doing the best we can to work through this and do the right thing.

John Roberts: Would you ever be comfortable being a house husband?


Bill Clinton: No. I have to go to work. I'm—I'm too much of a Calvinist. If I don't work every day, I get nervous.
A few brief thoughts:
First, I wonder if "it's not in the cards" and "I'm too much of a Calvinist" have ever been used so closely together before—or even by the same person!
Second, the question being discussed around the blogosphere is what Clinton meant by Calvinist in this statement. My theory is that he's seen the attention that Driscoll has received lately (e.g., Nightline and CNN) and thought perhaps claiming the label Calvinist could help him become more popular, too! (BTW, I'm not being serious.)
Finally, I don't think I've ever before been so tempted to consider becoming an Arminian. :)
HT: Aaron Sauer