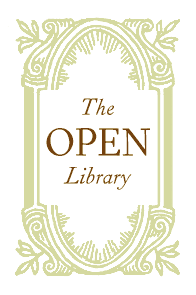 I knew that would get your attention.
Internet Archive, a site I use regularly for researching public domain books, just announced their newest project: OpenLibrary.org. Here's the site's description:
One web page for every book ever published. It's a lofty, but achievable, goal.

To build it, we need hundreds of millions of book records, a brand new database infrastructure for handling huge amounts of dynamic information, a wiki interface, multi-language support, and people who are willing to contribute their time, effort, and book data.

To date, we have gathered about 30 million records (20 million are available through the site now), and more are on the way. We have built the database infrastructure and the wiki interface, and you can search millions of book records, narrow results by facet, and search across the full text of 1 million scanned books.
According to the homepage, the current numbers are 22,845,290 book entries and 1,064,822 books with full text.
I'm impressed by the site, and I look forward to seeing how it does. The good news for Zotero users like me is that it does appear to have decent (though not perfect) Zotero support, allowing you to grab and import lots of books at a time.
Other online book sites you might find useful include:
Other helpful book sites that don't have text available include:
What are your favorite sites for researching books?