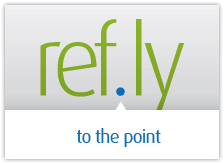 Logos Bible Software just launched a new website called ref.ly (think bit.ly). It allows you to share Bible verses as links via Twitter and other places where you have a limited number of characters and want to keep the URL as short as possible.
Enter a Bible reference, and ref.ly will instantly generate a short URL linking to the passage at Bible.Logos.com. Since ref.ly uses Bible references to create the URL structure rather than a random bunch of characters like most URL shorteners, you can create the short URLs yourself without having to visit the site every time.
Don't worry about trying to figure out which Bible reference abbreviation to use—ref.ly recognizes almost every conceivable form you throw at it. So you can share Matthew 11:25–26 in any of these ways:
You can share a single verse (e.g., http://ref.ly/1Co15.28), a range of verses, (e.g., http://ref.ly/Jn1.1-18), a chapter (e.g., http://ref.ly/1P5), or a book (e.g., http://ref.ly/3J), and you can even specify a particular version by simply adding @ followed by the version abbreviation (e.g., http://ref.ly/[email protected]).