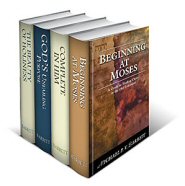 I'm very excited at the prospect of having the works of one of the most influential Bible teachers in my life, Dr. Michael P. V. Barrett, available digitally for Logos Bible Software in the four-volume Michael Barrett Collection. I'm also happy that many who don't know anything about him might soon have the chance to be enriched by his excellent teaching.
The collection includes his four books published by Ambassador International:
It doesn't include his Love Divine and Unfailing: The Gospel according to Hosea, which was published by P&R.
I've mentioned Barrett's works before. His chapter "Union with Christ: The Security of the Gospel" in Complete in Him (93–118) is one of the top picks in my list of resources on union with Christ. Sadly, it was out of print recently. But thanks in part to Chris Anderson's efforts, it's back in print for the time being. The others are in limited supply.