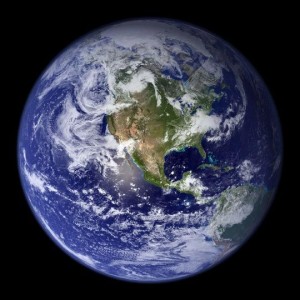 I've seen several posts recently on the subject of creation, evolution, and the age of the earth. If you missed them and are interested in these kinds of discussions, you may want to give them a read.
(See below for some related videos and conferences.)
I grew up believing that God created the universe out of nothing in six 24-hour days and that the earth was about 6,000 years old. My first real exposure to opposing Christian viewpoints was in Systematic Theology I in seminary, where we used Millard Erickson's Christian Theology1 as our main textbook.
The Age of Creation
Erickson presents five views on the age of creation:
Gap Theory: God first created the earth millions or billions of years ago (Gen 1:1), it was destroyed by a catastrophe (Gen 1:2), and then God created a second time around 6,000 years ago (406).
Flood Theory: God created the universe about 6,000 year ago and then sent a worldwide flood about 1,6562 years later (Gen 6–8); the flood caused great upheaval and accounts for the apparent age of the earth (406).
Ideal-Time Theory: God created a mature earth that had the appearance of age: a solar system and the light emanating from it, plant life ready to be eaten, animals in their full-grown state, and Adam and Eve as adults; everything had the appearance of age, even when it was really only seconds old (406–07).
Age-Day Theory: The six days of creation were not 24-hour periods but perhaps millions of years each (407).
Pictorial-Day (or Literary-Framework) Theory: The days of creation are arranged by the author of Genesis (or by God Himself in revealing them to man) primarily logically rather than chronologically (407).
Erickson is inclined toward the age-day theory.
Development within Creation
He then presents three views on the issue of development within creation:
Traditional Creationism: Every species was created directly by God during the first six days of the existence of the earth (408–09).
Theistic Evolution: The universe had its origin in a creative work of God, but God used the process of evolution to indirectly bring about the various species; He may or may not have been directly involved in the creation of human beings (409).
Progressive Creationism: "God created in a series of acts over a long period of time" (409).
Erickson favors progressive creationism.
Is God Deceptive?
I've had several discussions with friends who reject a young-earth position, but I presently hold to a combination of the flood theory and the ideal-time theory for the simple reason that I've never read or heard compelling argumentation to make me reassess my views.
The biggest objection that I hear raised against the notion that the earth was created with the appearance of age is that it is inconsistent with God's character as a God of truth. Erickson puts it this way:
The ideal-time theory is ingenious and in many ways irrefutable both scientifically and exegetically, but presents the theological problem that it makes God an apparent deceiver (and deception, as we saw in Chapter 13, is contrary to his nature). (407–08, emphasis added)
But I don't find the objection very compelling for at least three reasons.
The argument works against every position that holds that God created anything directly and out of nothing. No matter what your view, everything God created had the appearance of age the moment it was created, and it doesn't matter if that apparent age was millennia, years, or even days. If it appeared older than it actually was, according this this logic, God's character would be called into question.
Everything that was first created is fundamentally different from everything that followed it. A human being created directly by God out of nothing can not be held to the standard of a human being who is born by procreation. What would it look like to create a man that didn't have the appearance of age? Create a baby? Even a newborn has the appearance of being roughly nine months old. It's difficult to fathom what creating without the appearance of age would look like.
God is not accountable to man for how He chose to create His universe. He's free to create a star that's billions of light years away and also create the light emanating from it without our needing to think that He did something shady.
If you don't believe in a young earth or are convinced that God used evolution to bring about the species that we have today, what were the arguments, facts, or resources that led you to your conclusion. I'm especially interested in hearing from those who've abandoned young-earth creationism.

Piper on Creation and the Age of the Earth
I just saw a post in Google Reader from Chris Roberts, where he points out a couple of short videos by John Piper on these issues. They're both worth watching. I'm embedding them below for your convenience.
Creation Conferences
On a related note, there are a couple of conferences dealing with creation coming up:
Footnotes
I arrived at this number by adding up the numbers in Gen 5 from Adam's birth until Methuselah's death (130+105+90+70+65+162+65+969=1,656). According to Gen 7:11, Noah was 600 when the flood began, and Gen 5:25 and 28 indicate that Methuselah was 369 years old when Noah was born. That would put Methuselah's death, Noah's 600th birthday, and the flood all in the same year. ↩