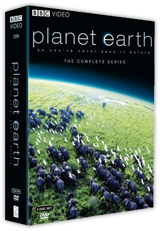 If you've never gotten around to watching BBC's Planet Earth yet, now's your chance to check it out for free—and in HD—and find out what you've been missing. Amazon Video On Demand currently has Planet Earth: Season 1, Episode 1: "From Pole to Pole" (49:16) available as a free download—both the standard and HD versions. And it's the good one, the one narrated by David Attenborough (not the one narrated by Sigourney Weaver).
I'd encourage you to watch it. It contains some amazing footage that will often lead you to worship our great and glorious Creator God, whose "eternal power and divine nature" are clearly seen "in the things that have been made" (Ro 1:20; cf. Ps 19:1–6).
For more on Planet Earth, see Andy Naselli's two posts: "Planet Earth: A Theological Documentary" and "Piper on Planet Earth."
Also, be on the lookout for Life, a forthcoming BBC production, also narrated by David Attenborough.