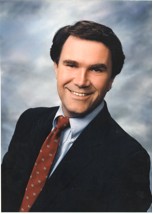 On Saturday night I discovered the Greg Bahnsen channel on YouTube, which has five video lectures (in 32 parts) and two audio debates (in 20 parts). Greg Bahnsen delivered the video lectures in 19911 as a five-part series, Basic Training for Defending the Faith (Amazon | Monergism), to soon-to-be college students. I spent a little while listening to bits and pieces of them, and they look terrific. The audio debates are the classic against Gordon Stein and the lesser-known against George Smith. I've heard them both before—the former more than half-a-dozen times. If you haven't yet listened to them, I'd encourage you to do so, especially the one against Stein.
Here's the complete list of everything that's available:
Video Lectures: Basic Training for Defending the Faith (Five Parts | 4:49:29)
Part One—The Myth of Neutrality (5 Parts | 48:52)
Part Two—Introduction to Worldviews (7 Parts | 50:56)
Part Three—Worldviews in Conflict (6 Parts | 52:26)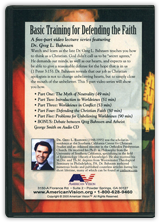 Part Four—Defending the Christian Faith (5 Parts | 49:26)
Part Five—Problems for Unbelieving Worldviews (9 Parts | 1:27:54)
Audio Debates
Greg Bahnsen vs. Gordon Stein—The Great Debate: Does God Exist? (14 Parts | 2:03:58)
Greg Bahnsen vs. Gordon Stein—The Great Debate: Does God Exist? (Part 1 of 14)2
Greg Bahnsen vs. George Smith—Atheism and the Case against God (6 Parts | 57:59)
Another Bahnsen debate you might want to listen to is the one against Edward Tabash. See my post "More Bahnsen Debates" for details.
Note: The video content appears to be copyrighted by American Vision (in 1995). I'm not sure if it's being used by permission on YouTube or not. It's been up since 2007, so I'd assume so. I hope it is, because it's a wealth of excellent material that needs to be made available to the masses. If you have knowledge to the contrary, please let me know. I'm not sure about the audio debates either, but they seem to be available pretty widely around the internet.
Footnotes
I'm inferring this number from his reference to Terminator 2 coming out "this summer." ↩
This one appears to be missing, but the audio is available elsewhere. See my previous post on Bahnsen debates for a link. ↩