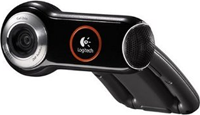 Living thousands of miles away from where we grew up (Ohio and Minnesota), we've been incredibly thankful for modern technology that allows us to have face-to-face conversations with our families. We almost exclusively use Skype now instead of our mobile phones to communicate with our parents and siblings. A really cool new feature coming in Skype 5 (currently in beta) is the ability to have video conversations between three and five computers at the same time. It looks really cool, but unfortunately it sounds like it may not be free.1
Along with Skype, we use the Logitech Webcam Pro 9000 (formerly called the Quickcam Pro 9000) and love it. It's an HD webcam that outputs video at 720p, so you get a really nice quality picture. If you're wondering whether it's worth the extra money, I can assure you that it is if you plan on using it regularly. Your family will thank you, especially when you have a little one come along like we did six-and-a-half months ago.
The Logitech Webcam Pro 9000 usually runs somewhere between $75–100, but Amazon currently has it on sale for only $55 with free shipping. That's a really good deal for this webcam. If you're in the market for one or want to get one for someone in your family as a gift, I'd strongly encourage you to pick this one up while it's on sale.
Footnotes
The Skype 5 page says, "This beta version comes with a free trial of group video calling." ↩