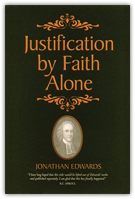 In my estimation, Jonathan Edwards's Justification by Faith Alone contains one of the most important and misunderstood1 evangelical discussions on the relationship between faith and works as they pertain to justification and salvation. Delivered in 1734 and first published in 1738, it may be found in 1:622–54 of his two-volume Works (Worcester rev. ed.),2 4:64–132 of his four-volume Works (Worcester ed.), 5:351–452 of his ten-volume Works (Dwight ed.), 19:147–2423 of his twenty-six volume Works, as an individual volume, and online in as many as seven different places.
As I continue my discussion on whether evangelicals, who affirm sola fide, are forced to sweep the passages that insist on holiness and good works under the rug, I turn to Jonathan Edwards, against whom no informed person would make such an accusation, as you can see for yourself in the quotations below. Except for the first, all of these selections come from his third and fourth sections, which discuss evangelical obedience and answer objections. I've bolded the most relevant portions.
Though faith be indeed the condition of justification so as nothing else is, yet this matter is not clearly and sufficiently explained by saying that faith is the condition of justification, and that because the word seems ambiguous, both in common use, and also as used in divinity. In one sense, Christ alone performs the condition of our justification and salvation. In another sense, faith is the condition of justification, and in another sense, other qualifications and acts are conditions of salvation and justification too. There seems to be a great deal of ambiguity in such expressions as are commonly used (which yet we are forced to use), such as condition of salvation, what is required in order to salvation or justification, the terms of the covenant, and the like, and I believe they are understood in very different senses by different persons. And besides, as the word condition is very often understood in the common use of language, faith is not the only thing in us that is the condition of justification. For by the word condition, as it is very often (and perhaps most commonly) used, we mean anything that may have the place of a condition in a conditional proposition, and as such is truly connected with the consequent, especially if the proposition holds both in the affirmative and negative, as the condition is either affirmed or denied. If it be that with which, or which being supposed, a thing shall be, and without which, or it being denied, a thing shall not be, we in such a case call it a condition of that thing. But in this sense faith is not the only condition of salvation and justification. For there are many things that accompany and flow from faith, with which justification shall be, and without which, it will not be, and therefore are found to be put in Scripture in conditional propositions with justification and salvation, in multitudes of places. Such are love to God, and love to our brethren, forgiving men their trespasses, and many other good qualifications and acts. And there are many other things besides faith, which are directly proposed to us, to be pursued or performed by us, in order to eternal life, which if they are done, or obtained, we shall have eternal life, and if not done, or not obtained, we shall surely perish. And if faith was the only condition of justification in this sense, I do not apprehend that to say faith was the condition of justification, would express the sense of that phrase of Scripture, of being justified by faith. There is a difference between being justified by a thing, and that thing universally, necessarily, and inseparably attending justification: for so do a great many things that we are not said to be justified by. . . .

. . .

It having been shown out of the Scripture, that it is only by faith, or the soul's receiving and uniting to the Savior who has wrought our righteousness, that we are justified. It therefore remains, that the acts of a Christian life cannot be concerned in this affair any otherwise than as they imply, and are the expressions of faith, and may be looked upon as so many acts of reception of Christ the Savior. But the determining what concerns acts of Christian obedience can have in justification in this respect, will depend on the resolving of another point, viz. whether any other act of faith besides the first act, has any concern in our justification, or how far perseverance in faith, or the continued and renewed acts of faith, have influence in this affair. And it seems manifest that justification is by the first act of faith, in some respects, in a peculiar manner, because a sinner is actually and finally justified as soon as he has performed one act of faith, and faith in its first act does, virtually at least, depend on God for perseverance, and entities to this among other benefits. But yet the perseverance of faith is not excluded in this affair. It is not only certainly connected with justification, but it is not to be excluded from that on which the justification of a sinner has a dependence, or that by which he is justified.

. . .

So that although the sinner is actually and finally justified on the first act of faith, yet the perseverance of faith, even then, comes into consideration, as one thing on which the fitness of acceptance to life depends. God in the act of justification, which is passed on a sinner's first believing, has respect to perseverance, as being virtually contained in that first act of faith, and it is looked upon, and taken by him that justifies, as being as it were a property in that faith. God has respect to the believer's continuance in faith, and he is justified by that, as though it already were, because by divine establishment it shall follow, and it being by divine constitution connected with that first faith, as much as if it were a property in it, it is then considered as such, and so justification is not suspended. But were it not for this, it would be needful that it should be suspended, till the sinner had actually persevered in faith.

. . .

On the whole, it appears that the perseverance of faith is necessary, even to the congruity of justification, and that not the less, because a sinner is justified, and perseverance promised, on the first act of faith. But God, in that justification, has respect, not only to the past act of faith, but to his own promise of future acts, and to the fitness of a qualification beheld as yet only in his own promise. And that perseverance in faith is thus necessary to salvation, not merely as a sine qua non, or as a universal concomitant of it, but by reason of such an influence and dependence, seems manifest by many Scriptures. . . .

. . .

And thus it is that a truly Christian walk, and the acts of an evangelical, child-like, believing obedience, are concerned in the affair of our justification, and seem to be sometimes so spoken of in Scripture, viz. as an expression of a persevering faith in the Son of God, the only Savior. Faith unites to Christ, and so gives a congruity to justification, not merely as remaining a dormant principle in the heart, but as being and appearing in its active expressions. The obedience of a Christian, so far as it is truly evangelical, and performed with the Spirit of the Son sent forth into the heart, has all relation to Christ the Mediator, and is but an expression of the soul's believing unition to Christ. All evangelical works are works of that faith that worketh by love, and every such act of obedience, wherein it is inward, and the act of the soul, is only a new effective act of reception of Christ, and adherence to the glorious Savior. . . .

. . .

These things [eternal life and salvation] being promised to our virtue and obedience, argues no more, than that there is a connection between them and evangelical obedience, which, I have already observed, is not the thing in dispute. All that can be proved by obedience and salvation being connected in the promise, is that obedience and salvation are connected in fact, which nobody denies, and whether it be owned or denied, is, as has been shown, nothing to the purpose. There is no need that an admission to a title to salvation should be given on the account of our obedience, in order to the promises being true. If we find such a promise, that he that obeys shall be saved, or he that is holy shall be justified, all that is needful, in order to such promises being true, is that it be really so: that he that obeys shall be saved, and that holiness and justification shall indeed go together. That proposition may be a truth, that he that obeys shall be saved, because obedience and salvation are connected together in fact, and yet an acceptance to a title to salvation not be granted upon the account of any of our own virtue or obedience. What is a promise, but only a declaration of future truth, for the comfort and encouragement of the person to whom it is declared? . . .

. . .

. . . the Scripture doctrine of justification by faith alone, without any manner of goodness or excellency of ours, does in no wise diminish either the necessity or benefit of a sincere evangelical universal obedience. Man's salvation is not only indissolubly connected with obedience, and damnation with the want of it, in those who have opportunity for it, but depends upon it in many respects. It is the way to salvation, and the necessary preparation for it. Eternal blessings are bestowed in reward for it, and our justification in our own consciences and at the day of judgment depends on it, as the proper evidence of our acceptable state; and that even in accepting of us as entitled to life in our justification, God has respect to this, as that on which the fitness of such an act of justification depends: so that our salvation does as truly depend upon it, as if we were justified for the moral excellency of it. And besides all this, the degree of our happiness to all eternity is suspended on, and determined by, the degree of this. So that this gospel-scheme of justification is as far from encouraging licentiousness, and contains as much to encourage and excite to strict and universal obedience, and the utmost possible eminency of holiness, as any scheme that can be devised, and indeed unspeakably more.
Edwards needs to be read in context—of the entire treatise, of his massive written corpus, and of the historical setting in which he wrote—to fully understanding (or avoid misunderstanding) what he's saying. He's emphatic that our acceptance before God is based solely on the merits of Christ's work and not on our faith, perseverance, or Spirit-empowered works. A shallow reading of his words can lead to a different conclusion.
The beauty of Edwards's treatise is in its demonstration that evangelicals need not choose between a salvation that is by grace alone through faith alone based on the work of Christ alone and the necessity of holiness and good works. Edwards doesn't shy away from acknowledging that Scripture presents works as not only recommended and important, but as certain and even necessary. There's no salvation, no heaven without them. They are necessary conditions4 to justification in particular and salvation as a whole.
So how does he avoid the notion that our works, even to some small degree, contribute to why God grants us salvation? Very simply put, a thing can be a necessary condition without being meritorious or the basis for something. There are many things that are necessary to our receiving final salvation that in no way contribute to our deserving that salvation of serving as its basis. Being physically alive (i.e., existence) is a necessary condition to salvation, but it does not merit it or serve as its basis. Understanding this distinction is vitally important to avoiding the errors of antinomianism and legalism.
Without exception, the sinner God justifies He regenerates, sanctifies, and causes to persevere—holiness and good works necessarily flowing forth from these works of God by His Spirit. These are ways of describing the person justified by God, not the reasons he is justified or the basis for his justification.
Footnotes