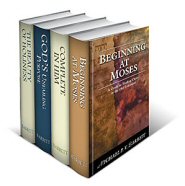 I'm very excited at the prospect of having the works of one of the most influential Bible teachers in my life, Dr. Michael P. V. Barrett, available digitally for Logos Bible Software in the four-volume Michael Barrett Collection. I'm also happy that many who don't know anything about him might soon have the chance to be enriched by his excellent teaching.
The collection includes his four books published by Ambassador International:
It doesn't include his Love Divine and Unfailing: The Gospel according to Hosea, which was published by P&R.
I've mentioned Barrett's works before. His chapter "Union with Christ: The Security of the Gospel" in Complete in Him (93–118) is one of the top picks in my list of resources on union with Christ. Sadly, it was out of print recently. But thanks in part to Chris Anderson's efforts, it's back in print for the time being. The others are in limited supply.
One of the benefits of making Barret's works available digitally for Logos is that they won't ever go "out of print" or be in limited supply again.1 They're currently being offered at a special pre-publication discount, and once enough pre-orders have come in to cover the cost of digitizing and tagging them, they will go into production. Unfortunately, not many Logos users have heard of Barrett before, so the collection has a ways to go.
Here's how you can help:
If you've benefited from Barrett's writings and ministry and use Logos, pre-ordering the collection is a no-brainer. If you haven't done it yet, please do it now. If you already have and are on Facebook, please take five seconds to click the Like button. This will go a long way in helping those who've never heard of Barrett to know whether they should pre-order his works.
If you're a Barrett fan but don't use Logos, now's a great time to start. Consider placing a pre-order to ensure that these great resources are made available to a broader audience and will stay "in print" for many years to come. Even if you don't, please at least click the Like button.
If you don't know who Barrett is, it's time for that to change. Read about him, listen to his sermons and lectures, find out why others love him, and then place your pre-order for his works.
To make it even easier, I've added the Like button for the collection right in my post. You have no excuse for not clicking it. :)
Footnotes
That is, as long as the copyright holder continues to renew their contract. ↩