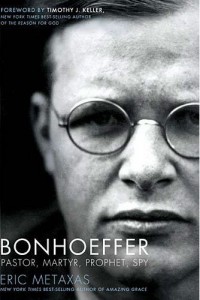 Dietrich Bonhoeffer has been the subject of some interesting discussion recently. If you missed it, here's a quick overview.
Update: Joe McGarry, a PhD candidate and Bonhoeffer scholar at the University of Aberdeen, reviews Bonhoeffer on the CBD Academic blog and echoes some of the same concerns of Weikart and Green.
Update 2: Nancy Lukens compares Metaxas's and Schlingensiepen's biographies of Bonhoeffer in "Agenda-Driven Biography: Two Very Different Tellings of the Life and Times of Dietrich Bonhoeffer" at Sojourner.
If you want to learn more, there are a host of videos about Metaxas's Bonhoeffer: