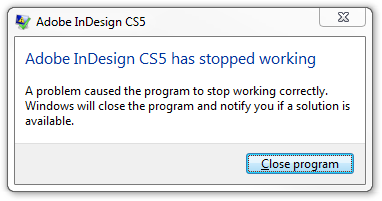 I occasionally create PDF documents using Adobe InDesign. The source document always comes from Microsoft Word. More often than not, when placing (think importing) the document in InDesign, it crashes and says, "Adobe InDesign CS5 has stopped working. A problem caused the program to stop working correctly. Windows will close the program and notify you if a solution is available." It gives no indication of what the problem might be, forcing me to search the Word document to see if I can locate the issue myself.
I proceed by dividing the document in half and then trying to import each half. The one that fails, I divide in half. I repeat this process over and over (and over) until I've located the page or paragraph with the problem. Since there's no visible problem with the text itself, I use PureText to wipe out all the formatting and problem code and then reformat it by hand to match the original. It's not a fun process, but it gets the job done.
After doing this for the third time, I decided there had to be a better (i.e., faster) way to identify the problem and fix it. I finally realized this time that in each case the problem has been the presence of a single empty footnote tag within a footnote. (I have no idea how it gets there.) There's no indication of anything on the surface. However, underneath there's an empty footnote tag in the code. This trips up InDesign every time, causing the program to crash and the placing process to fail. (It sure would be nice if it would just skip right over it and ignore it.) Don't ask me how the people who create the documents I import manage to get empty footnote tags in their footnotes. If I knew, I'd ask them to stop it.
Anyway, I found a solution that works and will save me about an hour or more each time in the future. I'm posting it here so I don't forget—and in hopes that it might help others who run into the same problem and turn to Google for the solution.
Here's what you need to do:
Copy and paste your entire document into Dreamweaver (or a comparable program that lets you see the underlying code).
Search the code of the HTML document for <a name="fn" id="fn">.
Locate the text between <a name="fn" id="fn"> and the closing tag </a>.
Locate and select that same text (and, to be safe, the word immediately before and after it) in your Word document and paste it back in without formatting. (You can do this by using PureText, choosing Paste Special > Unformatted Text, or just deleting and retyping the text.)
Reformat the text as necessary.
Save your document, and retry placing it in InDesign.
If your document is too big to paste into Dreamweaver, you'll have to take a slightly different approach.
Save your Word document as a web page.
Open the web page in Dreamweaver or another HTML editor.
Search the code of the HTML document for <a name=fn>.
Locate the text between <a name=fn> and the closing tag </a>.
Follow steps 4–6 above.
That's it. This should help you quickly find that hidden problem in your Word document that's causing InDesign to crash when you try to place a document.