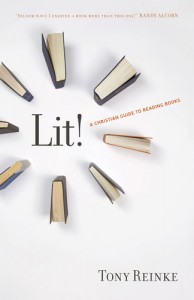 I finished reading my first book this year, Tony Reinke's Lit! A Christian Guide to Reading Books (Kindle | Vyrso). I read it on my Nexus 7 using the Vyrso app. If you want to read more books in 2013, you'll find a lot of help and motivation from this fine book.
Tony gives six tips to help you read more books this year:
Expect resistance from your heart.
Make time to read, not excuses for why you don't read. We all have good excuses.
Cultivate a hunger for books by reading (and rereading) great books.
Set your reading priorities, and let them drive your book selections.
Stop doing something else in order to make time to read.
Try reading three (or more) books at a time and take advantage of your environments.
On #5, I'll be replacing some of my RSS reading with book reading.
Up next: Todd Billings's Union with Christ: Reframing Theology and Ministry for the Church, which I'll be reading in Vyrso.
What are you reading?