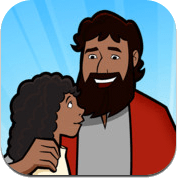 If you have an iPad and kids or grandkids (or plan to one day), you'll definitely want to download the iPad app God's Love: A Bible Storybook, which is free until Monday morning.
Here's the description:
Explore God's love from the creation of the world to the ascension of Christ. Featuring 120 story pages and three hours of spoken audio, this storybook app can help parents and Bible teachers alike share God's majesty with children.
Here's the book's intro:
Before Creation, God's heart overflowed with love for the other members of the Trinity. Then as God spoke the universe into existence, His love exploded into a kaleidoscope of shapes, sounds, smells, and tastes. Yet above all this beauty, we find the fullest and brightest expression of God's love in the Person and work of Jesus Christ. As you explore God's majestic love, we pray that this storybook will encourage your family to develop a new awe for Him.
We purchased the iPad app for $9.99 last summer and then the print book [Amazon] for Christmas, and we've really enjoyed both with our daughter.
In addition to the app and hardback, you can also download the MP3 files and a PDF guide for parents for free.
My one quibble with the iPad app is that if you're listening to the audio and your child decides to flip to another story, you'll have to restart the audio from the beginning.
To learn more about the book, see Andy Naselli's interview with author Champ Thornton. See also my list of recommended iPad apps.
HT: Tim Challies