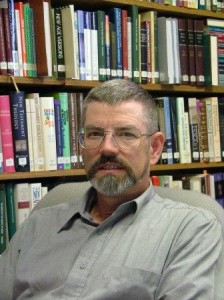 Professor and blogger Rod Decker posted on his blog this weekend about his cancer. It appears to be more widespread, more aggressive, and more serious than they originally thought. He's begun treatment to control and reduce the cancer, and he'd appreciate your prayers—as we all would if we were in his shoes.
As I read his post, I was reminded of how often I hear about a friend's or acquaintance's getting or dying from cancer—especially with how connected the internet has made us all. I was also reminded that the chances are good that it will touch me or my family at some point.
While it's not appropriate to worry about a "frowning providence" that God might have in store for us, it is good to equip ourselves with biblical thinking about sickness and death (Ec 7:2). To that end I'd encourage you to read Rod's post, especially the third paragraph.
We will appreciate your prayers for both Linda and me as God lays us on your heart. I have no doubt that God is able to heal me supernaturally should he see fit, but I do not presume to have any claim for such healing. Many of God's children die from cancer every day and I am no better than they in that regard. Should God see fit to spare me at any point in the process, either through medical intervention or supernaturally, I shall be grateful and know that my work here was not yet finished. If, on the other hand, you should hear in the years ahead that God has seen fit in his sovereign providence to take me home, then you will know that what he gave me to do here was finished. But please don't presume to order flowers for my funeral yet! :) I am not at death's door. I may be worse before I am better if my current treatment is effective. (The doctor tells me that could be a good sign!) As they say, sometimes the treatment can be worse (at least in the short term) than the disease! Of course the reverse would be true in due time with no treatment.
John Piper's "Don't Waste Your Cancer" is also worth a regular read. If you haven't read it—or read it recently—I'd encourage you to do so.
See also these related posts: