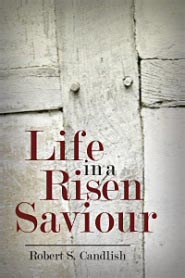 Life in a Risen Saviour: Being Discourses on the Argument of the Fifteenth Chapter of First Corinthians by Robert Candlish is free from Logos Bible Software this month as part of their Free Book of the Month program. After you get the free book, you can read in one of the free reader apps for PC, Mac, iPhone, iPad, Android, or Kindle Fire—or online at Biblia.com.
You can also enter to win a free copy of the 15-vol. Works of Robert S. Candlish.
Life in a Risen Saviour consists of 21 sermons. Here's how Candlish introduces the volume:
I have endeavoured, in these Discourses, to illustrate the line of argument pursued by the Apostle. It is not, as I apprehend it, an argument about the resurrection generally. It has respect to one particular view of the resurrection; its bearing on the believer's spiritual and eternal life. I have sought to trace the line of thought which gives unity and coherence to the Apostle's reasoning. I have by no means, however, aimed at anything like a complete commentary or exposition. I have rarely discussed different interpretations, and have abstained from minute criticism. There is no attempt, on my part, to occupy the place already so well filled by such learned and acute scholars as Dr. John Brown, and other recent writers, who have bestowed research and study on the examination of this portion of Scripture. I have not quoted authorities. But I must name Isaac Taylor's "Physical Theory of Another Life," as having suggested interesting lines of thought connected with the future state.

I crave indulgence for some diffuseness, as well as for occasional repetitions, not easily to be avoided in a series of compositions for the pulpit, prepared often hastily from week to week, and all having reference, more or less directly, to one theme. I might have recast what I had thus prepared, so as to give it the form of a more compact treatise. But that is always an irksome task,—and not always a successful one. I have thought it best to publish the Discourses very much as they were when I preached them.
He traces Paul's argument along these lines:
1 Corinthians 15:1, 2—The consistency of Paul's preaching, and its acceptableness
1 Corinthians 15:3–11—The substance of Paul's preaching, and its evidence
1 Corinthians 15:12–17—If there is no resurrection, Christ is not risen, and we are yet in our sins
1 Corinthians 15:18, 19—The pious dead are lost, and we are miserable
1 Corinthians 15:20–23—But Christ is risen, and is become the first-fruits of them that sleep
1 Corinthians 15:24–28—The end; the delivering up of the kingdom to the Father
1 Corinthians 15:29–32—Why baptism for the dead, and other hazards? Why not live for the passing day?
1 Corinthians 15:33, 34—Danger of Antinomian license, as the fruit of dallying with "profane and vain babblings."—(2 Tim. 2:16–18)
1 Corinthians 15:35–38—How are the dead raised?—Not as they die—Analogy of the bare grain yielding ripe fruit
1 Corinthians 15:39–42—Varieties of bodies in nature—Terrestrial and celestial
1 Corinthians 15:42–44—Bodies changed from corruption, dishonour, and weakness, to incorruption, glory, and power
1 Corinthians 15:44—The natural and the spiritual body
1 Corinthians 15:45–49—The two Adams
1 Corinthians 15:50–53—"Flesh and blood cannot inherit the kingdom of God"
1 Corinthians 15:53, 54—"Flesh and bones"—Kinsmanship, and community of nature
1 Corinthians 15:54—Death swallowed up in victory
1 Corinthians 15:55, 56—The sting of death—Sin—The strength of sin—The law—Victory the free gift of God in Christ
John 11:25, 26—Christ the resurrection and the life
1 Corinthians 15:58—Steadfastness in the faith of the resurrection
1 Corinthians 15:58—Abounding in the work of the Lord—Its reward—Resumption of it
Isaiah 25:8—The Church's progress—Her final victory over all the earth—Her missionary character
Here are the books that Logos has offered for free so far:
To make sure you don't miss future free books, sign up for the Free Book of the Month email list.