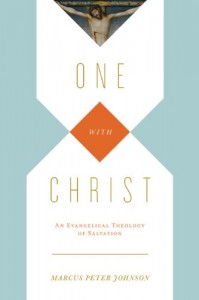 A reader pointed out a forthcoming book on union with Christ: One with Christ: An Evangelical Theology of Salvation. This 256–page book by Marcus Peter Johnson is supposed to be published by Crossway on August 31, 2013.
Here's the description from Amazon:
Regeneration, justification, sanctification. These are the primary words that come to mind when talking about the theology of salvation. However, the Bible teaches that each of these concepts is firmly rooted in something more foundational: our union with Christ. In this accessible book, Johnson introduces us to this neglected doctrine, arguing that it is the dominant organizing concept for salvation in the New Testament. In eight thought-provoking chapters, Johnson shows how a believer's position "in Christ" is the lens through which other all other facets of salvation should be understood. Interacting extensively with the biblical text and drawing on lessons from church history, Johnson presents a compelling case for the unique importance of this beautiful, biblical doctrine.
Marcus Johnson holds a PhD from the University of Toronto and is an assistant professor of theology at Moody Bible Institute. His doctoral dissertation was entitled "Eating by Believing: Union with Christ in the Soteriology of John Calvin." PhD diss., University of St. Michael's College, 2007. [Proquest]
He has also published several articles on union with Christ:
This volume follows these three excellent additions to the subject of union with Christ in the last two years:
Billings, J. Todd. Union with Christ: Reframing Theology and Ministry for the Church. Grand Rapids: Baker, 2011. 192 pp. [Amazon]
Campbell, Constantine R. Paul and Union with Christ: An Exegetical and Theological Study. Grand Rapids: Zondervan, 2012. [Amazon]
Letham, Robert. Union with Christ: In Scripture, History, and Theology. Phillipsburg, NJ: P&R, 2011. 208 pp. [Amazon]
See more in my Union with Christ bibliography, which I just recently updated.