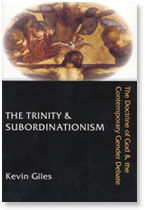 Kevin Giles's The Trinity & Subordinationism is easily one of the worst books I have ever read.1 I say that not because I disagree with the position he defends (i.e., the Son is not in any sense eternally subordinate to the Father); I'm still in the process of evaluating the evidence. Rather, I make that statement based primarily2 on what the book itself sets out to do.
Giles's goal in T&S is to move beyond the exegetical impasse regarding eternal subordination in the Trinity by appealing to tradition.
Quoting biblical texts and giving one's interpretation of them cannot resolve complex theological disputes. . . . I believe this approach [to "doing theology"] should . . . be abandoned today because it always leads to a "text-jam." . . . What we have today is a bitter stalemate (3).
Footnotes
I should clarify that I have read and am referring to only his section on the Trinity, which is its own distinct unit. ↩
I'll probably follow up this post with the book's other problems, such as (1) misunderstanding and misrepresenting complementarians, (2) selective reading of history, (3) eisegesis of historical texts, (4) category confusion, etc., etc. Here's one example of misrepresentation to give you an idea of the way Giles interacts with complemenatarian Trinitarianism throughout the book: "Rather than working as one, the divine persons have been set in opposition—with the Father commanding and the Son obeying." I wrote this in the margin, "Opposition?!!! What a massive misrepresentation!" I challenge Giles to show one complementarian who considers the Father and the Son to be in a relationship of opposition! ↩