Marianne Meye Thompson, The Promise of the Father: Jesus and God in the New Testament. Louisville: Westminster John Knox, 2000. [Amazon | Google Books]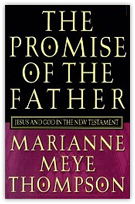 In The Promise of the Father (PF), Thompson, an egalitarian, wrestles with how the church should think about God's Fatherhood in a post-patriarchal context. Is Father still an appropriate designation for God? Can feminine language be used of God? What does Father really mean when used of God? Thompson proposes a minimalistic, non-traditional view of what God's Fatherhood really entails, maintains that God should still be called Father, and leaves the door open for using feminine language for God.
Not all of the content in PF is new, nor is it exclusive to this book. Two of the eight chapters (roughly 20% of the book's content) appear elsewhere. Chapter 5, "Heirs of God, Heirs with Christ" (116–32), was republished and slightly reworked from Romans and the People of God (ed. Sven Soderlund and N. T. Wright; Eerdmans, 1999, 203–16); and chapter 6, "The Living Father" (133–54), originally appeared in a shorter form in Semeia 85 (1999: 19–31) and then again as chapter 2 in Thompson's The God of the Gospel of John (Eerdmans, 2001, 57–100).
The following paragraphs summarize chapter by chapter the main points of Thompson's thesis.
The introductory chapter, "God as Father: The Contemporary Debate," situates the discussion in the feminist movement and its "challenge to the theological viability and propriety of speaking and thinking of God as Father" (1). As an egalitarian, Thompson takes a mediating position between more extreme feminists and antifeminist traditionalists. Thompson defines traditionalists to include egalitarians like herself as "those who, for one reason or another, argue for the necessity of the traditional designations for God" (7). Hinting at her conclusion from the outset, Thompson argues that Father should continue to be used for God. The problem lies not in its use, but in the assumptions regarding what it means.
In chapter one, "Joachim Jeremias and the Debate about Abba," Thompson challenges the prevailing notion rooted in the important work of Joachim Jeremias that Jesus' use of ἀββά was habitual, unique, and indicative of His unique relationship of intimacy with God. Since ἀββά occurs only once in the Gospels, there is no indication that Jesus used it as His normal address for God. While Jeremias is correct that ἀββά does not occur elsewhere in Palestinian Judaism in an individual's address to God, there are instances in the DSS where God is addressed as "My Father" (). Thompson highlights the OT references to God as Father, which appear in the context of restoration of Israel, and argues that Jesus' usage was intentionally eschatological and in continuity with OT usage. The main point of His addressing God as Father was to express confident trust in God's faithfulness to His promises.
In chapter 2, "God as Father in the Old Testament and Second Temple Judaism," Thompson argues that the OT provides the proper context for understanding God's Fatherhood in the NT. Fatherhood is summed up in terms of (1) giving life and inheritance, (2) loving and caring for one's children, and (3) possessing authority and deserving obedience and honor (cf. 18, 39, 54, 87–88). Each of these themes characterizes God's interaction with His covenant people. Though references to God as Father are far less numerous than in the NT, the concept of God's Fatherhood is expressed regularly in the OT (e.g., God begets Israel, Israel is His son, etc.). This continuity runs through Second Temple Judaism as well. The objects of God's Fatherhood are His people Israel, viewed corporately rather than individually. God is also the Father of the king. These two expressions of God's Fatherhood find parallel in the NT, with God as Father of His new covenant people and of the Messiah.
In chapter 3, "Jesus and the Father," Thompson steps back and reanalyzes the evidence that Jesus even called God Father and, assuming He did, tries to determine the significance. She concludes based on the criterion of multiple attestation, the limited thematic scope of father language, and the criterion of dissimilarity that "a good case can be made for the authenticity of Jesus' use of Father for God" (59). Jeremias was likely correct about Jesus' use of ἀββά, primarily because it is difficult to explain Paul's use of the term in Romans and Galatians otherwise. But there is no indication that Jesus' use of ἀββά communicated anything about His experience of God. Rather, Jesus used Father precisely because it was in OT texts whose fulfillment was wrapped up in Jesus' mission, at the heart of which was Israel's renewal and restoration. By using Father Jesus was expressing His belief in God's faithfulness to Israel.
In addressing the question of the origin of Jesus' understanding of God as His Father, Thompson goes against the majority of NT scholars and suggests that Jesus' relationship to God was rooted in His understanding of God's Fatherhood of His people Israel. In Thompson's own words, "Jesus understood God first as the Father of the people of Israel, and his own relationship to God in and from that framework" (79). One of the main contentions of PF is that "in speaking of God as Father, Jesus wished first and foremost to say something about God's relationship to his people, what it meant to be children of God, and about his own confidence that this God could be trusted," (80) not about His own relationship of intimacy. The relationship that Jesus invited others to was not "a relationship with God formerly unavailable" (85). In contrast with the claims of Köstenberger and Swain (Father, Son and Spirit, 146–47), Thompson maintains that "Jesus did not invite his disciples to a share of his relationship with God but to a share of the inheritance that was theirs together" as children of the Father of Israel (85).
In chapter 4, "Jesus and the Father in the Synoptic Gospels," Thompson compares and contrasts how the Gospels of Matthew, Mark, and Luke treat the subject of God's Fatherhood. Although Mark's Gospel contains the only occurrence of ἀββά in the Gospels, it uses πατήρ of God only four times. Mark tends to focus on the third aspect of fatherhood, the obedience and honor owed to God, and pays special attention to the unique relationship that Jesus has with His Father. Prominent themes in Luke are the inclusion of the Gentiles in the family of God, the relationship of the Father with all of Jesus' followers, and the call for those who have received mercy to show mercy. Matthew's Gospel contains more references to God as Father than Mark and Luke combined. It lays stress on the exclusion of the unbelieving Jews and appropriate family conduct. All three emphasize Jesus' exemplary relationship as Son of the Father.
Chapter 5, "Heirs of God, Heirs with Christ," looks at Paul's letters—particularly Romans and Galatians, the only two NT books other than Mark that use ἀββά—and argues on the basis of the earlier chapters what it means for believers to use ἀββά and call upon God as Father. Paul's letters give special attention to a single aspect of God's Fatherhood: God's giving an inheritance to His children. They confirm the important distinction between how God is the Father of believers and how He is the Father of Jesus. At the heart of Paul's use of God's Fatherhood is the unity of Jews and Gentiles in one family. The our in "our Father" often has this point in view. Both Romans 8:15 and Galatians 4:6 have been misunderstood as referring to the believer's subjective experience of God. The point is precisely a confession of God's mercy to all people—both Jews and Gentiles. Thus, "Paul's concern is not merely with the individual's experience of God, nor with the Spirit' activity within the individual, but with the unity of Jew and Gentile" (129).
Chapter 6, "The Living Father," singles out the unique contribution of John's Gospel to a proper understanding of God's Fatherhood. No portion of Scripture focuses on the uniqueness of Jesus' relationship with the Father more pointedly. In contrast with the emphases in the Synoptics, John stresses that "the Father is the source and giver of life" (135). Thompson takes John's statements of supposed "subordinationism" like 14:28 to indicate that the Father is "the origin of the Son's very being" and concludes that "the notion of hierarchy or 'superiority' is actually subsumed into the Father's life-giving, not 'command-giving,' persona" (150). She interprets "the Son's obedience as an enactment or expression of the Father's will, rather than as submission or acquiescence to it"—pointing out that Jesus is never said to "obey" the Father (150; cf. 151). It is vital that the Father–Son relationship, which occupies such an important role in John's Gospel, it be understood in terms of obedience, honor, and "kinship . . . rather than as emotional intimacy" (153).
The 30-page conclusion, which ties with chapter 3 as the longest in the book, rehearses chapter by chapter the main points and draws out some implications. The creedal trajectory, that is, the Father–Son relationship as explicated by Nicaea, must be challenged by and rooted in the eschatological and ecclesiological trajectory, or the biblical narrative of God's keeping His promises to Israel and to the world through Israel's Messiah will be lost. Contrary to the way many Christians think, there is no direct connection between God's Fatherhood and human fatherhood anymore than there is between God's Fatherhood and human motherhood. To say it another way, "fathers [do not] image God more fully or completely than mothers do" (170). Christians ought to react as strongly to the notion that God is male as they would to the notion that God is female. Thompson concludes by asserting the legitimacy of calling God Father, but quickly adds a warning about the error of understanding God's Fatherhood in light of human fatherhood, and especially maleness. At the very heart—and perhaps as far as one may safely go—speaking of God as Father involves trust in God's faithfulness and goodness. Thompson's emphasis is summarized well in the opening sentence of the final paragraph: "The church's witness is not that it is 'meaningful' to speak of God as the Father of Jesus Christ, but that it is true" (185).
Theologically conservative complementarians will no doubt take issue with PF on a number of fronts (e.g., its questionable bibliology and lack of systematic-theological synthesis). Where there is most cause for concern, however, is in Thompson's insistence that God bears the designation Father simply because fathers in the OT happened to perform the functions that were most characteristic of God's activities (e.g., 54). One might conclude, then, that if OT Israel had been matriarchal, God would have been called Mother—and this book would have been called The Promise of the Mother. Although she wishes to retain father language for God, Thompson has provided less than compelling reasons for doing so. In fact, she has undermined the case. According to this view, God's "Fatherhood" is simply arbitrary and is contingent upon a patriarchal context to communicate properly. God is not the eternal Father of the eternal Son. Yet had God wanted to keep His people from associating Him more closely with masculinity than femininity, certainly He could have chosen different language. If Father language for God is to be preserved, the only solid foundation for doing so is the self-revelation of the triune God—the eternal Father, Son, and Spirit—who has sovereignly and intentionally disclosed Himself in His authoritative Word using masculine language.