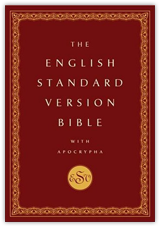 A friend of mine pointed out to me that Oxford University Press is publishing an new edition of the ESV which includes the Apocrypha. The expected release date is December 31, 2008.
Here's a selection from the publisher's description:
This Bible [the ESV] has been growing in popularity among students in biblical studies, mainline Christian scholars and clergy, and Evangelical Christians of all denominations.

Along with that growth comes the need for the books of the Apocrypha to be included in ESV Bibles, both for denominations that use those books in liturgical readings and for students who need them for historical purposes. More Evangelicals are also beginning to be interested in the Apocrypha, even though they don't consider it God's Word. The English Standard Version Bible with the Apocrypha, for which the Apocrypha has been commissioned by Oxford University Press, employs the same methods and guidelines used by the original translators of the ESV, to produce for the first time an ESV Apocrypha. This will be the only ESV with Apocrypha available anywhere, and it includes all of the books and parts of books in the Protestant Apocrypha, the Catholic Old Testament, and the Old Testament as used in Orthodox Christian churches. It will have a lovely pre-printed case binding, and will include a full-color map section, a table of weights and measures used in the Bible, and many other attractive features.