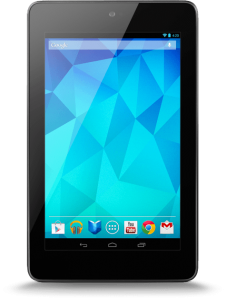 I've been using a Nexus 7 (from Google and Asus) for the last seven months, and I've really enjoyed it. It's a nearly perfect device—at least for my needs. It replaced my third generation iPad (which my wife and daughter now share) and my HTC Evo phone.
Here are seven things I love about it, in no particular order:
It's fast. When I tap, it responds. It doesn't get sluggish or laggy like other Android tablets I've tried. It's performance is on par with the iPad.
It's sharp. One of my primary uses is reading (primarily using the Vyrso, Bible, and Faithlife apps), so it's important to me that text looks crisp. The 1280×800 screen delivers well.
It's comfortable. It's light, feels good, and can be used with one hand. That makes it ideal for extended use and multitasking (like holding my wife, daughter, or son with my other arm).
It's portable. I can easily carry it with me in the back pocket of most of my jeans and the front pocket of my dress pants. If I'm wearing a coat, it fits in any pocket. One of my biggest frustrations with the iPad was its portability.
It's affordable. What you get for the price—around $200 for the 16 GB version—is well worth it.
It's Google. I love the Google ecosystem. I use most of Google's services, and it brings them all together nicely—including the new Google Now. Unlike other devices, there's no extra junk that I don't want and can't remove. As Google releases new OS updates, Nexus 7 owners are among the first to get them.
It's compatible. Since it's sold really well, most app developers make sure their apps work well on it. There have been very few issues with compatibility, and most have been addressed fairly quickly.