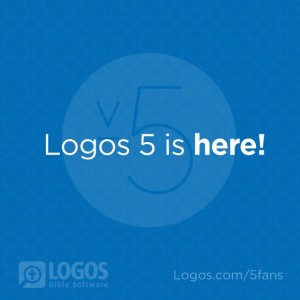 Three months ago we launched a brand new version of our Bible study software for PC and Mac: Logos Bible Software 5. If you haven't checked it out yet, I'd encourage you to. Logos 5 is faster, better organized, and easier to use, and it has a cleaner look and lots of new and improved features. It's a fabulous tool for studying the Bible, theology, church history, and so much more. I've been using it for more than a decade. It's easily one of the best investments I've ever made. I wish every Christian family in the world owned at least one copy.
Here are five reasons you should consider purchasing it:
It's an excellent value. The base packages give you access to a wealth of books, data, and tools at a significant savings off print.
It's cutting-edge. You'll get access to some one-of-a-kind data and tools that will help you study the Bible more deeply and efficiently.
It's accessible. Unlike most programs that limit the number of devices you can use your purchase on, Logos allows you to access your library on as many of your personal devices as you want: PC, Mac, iPhone, iPad, Android, Kindle Fire, and online at Biblia.com.
It's extensible. The base packages give you a library of hundreds or thousands of resources, but there's plenty of room to grow from there. You can choose from more than 32,000 Logos and Vyrso books to grow your library to meet your needs.
It's on sale. The special introductory upgrade discounts end today (Monday, February 4, 2013).
If you're still not sure, there's a risk-free, 30-day, no-questions-asked, money-back guarantee. You can easily return it for a full refund if you're not completely satisfied with your purchase.